At Table 301, It's a Team Effort
We support a company culture that is energetic, caring, positive and fun. Our shared goals help us deliver exceptional hospitality and unforgettable experiences "The Soby's Way" — each and every day. Here are a few people that help make Soby's a great place to work.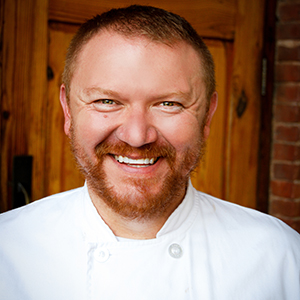 Shaun Garcia
Executive Chef
Born and raised in a mill town in Spartanburg County, South Carolina, Shaun's interest in food began early; he practically grew up in the kitchen of his grandmother's restaurant. The family-owned establishment was a true southern restaurant and taught Shaun the most important thing in the restaurant industry is hospitality.
Read Shaun's Full Bio
Shaun spent his early years learning about the importance of southern food and culture. When he was Executive Chef at Soby's, Shaun took that heartfelt flavor of authentic Southern cooking and adds fresh style for an unexpected dining experience. In 2010, he took his commitment to heirloom ingredients to the next level by establishing the Soby's Field at Dark Corner, an ambitious project that raises produce from the Slow Foods Ark of Taste list for use in the restaurant. The Ark of Taste, a collection of food items in danger of extinction, promotes and protects the vibrant flavors of American ingredients, and by growing these items for Soby's, Shaun is assuring that the restaurant will be able to offer dishes that honor culinary history.
He joined Table 301 Restaurant Group in August of 2003 as a line cook, and his innate talent for Southern cooking led him to take the helm of the Soby's kitchen in January of 2007. He is a participant in the annual Euphoria festival, a first-class culinary celebration that raises funds for charities while promoting tourism and enhancing the reputation of Greenville, S.C. as a premiere culinary and performing arts destination. Shaun enjoys being a part of local non-profit events each year, such as the March of Dimes Signature Chef's Auction, Fall for Greenville and Hospitality Day at the State House.
One of Shaun's primary goals in dish development is to use seasonal ingredients and local products whenever possible in order to support local food producers and provide the best flavor for his guests. He draws on his profound experience with Southern food traditions to bring time-honored recipes with modern flair to the table. In addition to taking inspiration from his family heritage of Southern cuisine, he uses techniques like a French slow braise to bring out the potential in lesser-used cuts of meat and uses traditionally African ingredients like okra and yams that have historically brought wonderful flavor to Southern food.
Shaun left Soby's in the summer of 2015 to pursue career opportunities in the Northwest, but realized quickly that Upstate South Carolina was home. He rejoined Table 301 in February 2016, joining the NOSE DIVE team as Executive Chef. After a short stint back in the Northwest, Shaun returned to the kitchen he called home for so long, Soby's, and oversees culinary operations there as Executive Chef.
He also enjoys working with bourbon, a spirit that he says lends itself well to the hearty, earthy flavors of Southern cuisine and matches his recipes in heritage and history. Shaun's cuisine is a study in culinary history, updated for the modern palate. He is a member of the Southern Foodways Alliance, Seed Savers and Slow Foods. He has been featured several national publications, including Cooking Light, Garden & Gun, and Taste of the South.
John Conti was born and raised in Charleston, SC and is the oldest of three children. He attended Francis Marion University and received his Bachelors of Science Degree in Business Administration.
Read John's Full Bio
After graduating, he got a job at Enterprise Rent-A-Car, where he traveled a lot and eventually got transferred to Greenville, SC. He later enrolled in the United States Coast Guard Reserve. This is where his passion for food was ignited, and he realized he wanted to cook full-time.
John went back to school at Greenville Technical College and double majored in Culinary Arts Technology and Baking & Pastry Arts. While in school, he interned with Soby's on the Side for 10 months. He met all of the Table 301 chefs during Fall For Greenville and was hired to work full-time in October 2010 for the pastry departments at Soby's and Soby's on the Side. He held that position for two years until he was promoted to Pastry Chef at The NOSE DIVE. After time in the kitchen at NOSE DIVE, he moved back to Soby's where he is currently the Pastry Chef.
He still serves on Coast Guard duty, and in summer 2014, he was invited to spend a week at the Department of Homeland Security's Headquarters in D.C. to assist with the retirement celebration of the Commandant of the United States Coast Guard.
John loves playing soccer, surfing, gardening and enjoys making his own sauces from what he grows. John's family still resides in Charleston, SC and he visits least once a month.
He loves to travel and work with other pastry chefs to learn new techniques and to improve his craft.