At Table 301, It's a Team Effort
We support a company culture that is energetic, caring, positive and fun. Our shared goals help us deliver exceptional hospitality and unforgettable experiences "The Soby's Way" — each and every day. Here are a few people that help make Soby's a great place to work.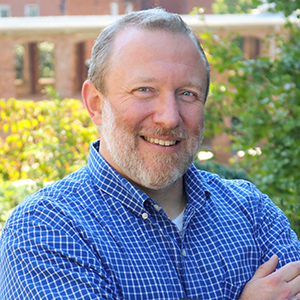 Ken Preston
General Manager
A native of Riverside County, CA, Ken Preston got his start in the restaurant profession as a server assistant and worked his way up the ladder.  He was attending college studying business when he moved into management with The Old Spaghetti Factory and Buca di Beppo, and it was here that he discovered his real passion for the hospitality industry.
Read Ken's Full Bio
A position with Darden Restaurant Group and Yard House allowed him to travel across the country helping to open new locations.  When his extended family began to move away from the west coast, he requested a transfer "as far east" as possible.  In 2015, he landed in Greenville, SC, (sight unseen!) and soon after was offered a general manager position with Mac's Speed Shop.  In 2019, he joined the Table 301 team working first at Soby's. After a time as general manager of The Lazy Goat, he is now back at Soby's as General Manager, where he oversees all operations and associates.
For Ken, the experience is what it's all about.  "I'm driven to offer guests a memorable dining experience – from the moment they walk through the door everything should be unforgettable in the best of ways."
One of Ken's interests and longtime goals is to become a Certified Cicerone or beer expert.  He was able to teach beer classes at some of his past jobs and continues to build his knowledge about the brewing industry.  When he's not working, he's tackling his "honey-do" list at home with his wife, Becca, and spending time with their two children.  He loves playing guitar and, on occasion, stretching out for a long nap on the couch.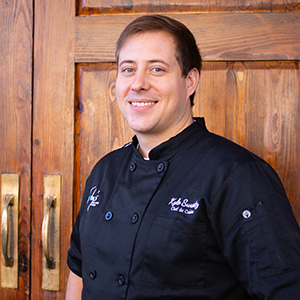 Kyle Swartzendruber
Executive Chef
Executive Chef Kyle Swarzendruber brings a wealth of expertise and inspiration to Soby's New South Cuisine by drawing upon his passion for raw, simple ingredients and crafting them into delicious, beautiful dishes that bring joy to guests.
Read Kyle's Full Bio
His ability to create fresh flavors and interesting interpretations of southern dishes ultimately makes Soby's one of the most popular restaurant destinations in the Upstate of South Carolina.
Raised on the Gulf coast of Florida, Kyle's career aspirations in the hospitality industry began after high school when his parents relocated to Wisconsin and opened a supper club (which is still owned and operated by his parents to this day.)  Starting off as a server, he soon gravitated to the kitchen and worked his way up to lead cook. He left to continue his education at Nicolet Culinary College earning a culinary arts degree while also working at a local country club where he gained experience managing all aspects of the kitchen.
After a few years, Kyle moved back to Florida seeking more opportunities in the restaurant industry, and landed at Michaels on East, a AAA four-diamond restaurant in Sarasota, where he honed his skills collaborating with talented chefs who helped him build his food knowledge. But his desire to find a place that offered a blend of both country life, and a booming culinary scene eventually led him to Greenville County where he bought a plot of land and built a hobby farm in Travelers Rest. In 2021, Kyle found his way to Table 301 where he started as a sous chef and then named executive chef of Soby's in 2022.
At Soby's, Kyle monitors the daily operations of the restaurant, including overseeing the kitchen, ordering food, hiring, mentoring, and teaching staff.  "My father was my biggest influence in my decision to join this business," says Kyle. "He is the one who taught me that a hard-working attitude and dedication is what it takes to succeed in this industry."
In his free time, Kyle likes to tend to his yard – whether it's mowing or landscaping.  A large front porch on his home provides the perfect place to relax with his wife and children. An avid sports fan, Kyle enjoys watching football, basketball and plays a round of golf when possible.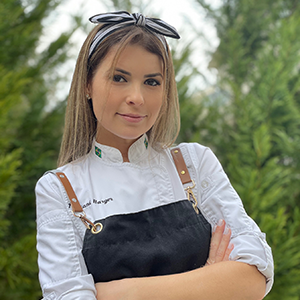 The delicious sweets Soby's presents its guests each night are thanks to the talents of Pastry Chef Tarciani Harger, or Tarcy, as she's called. Born and raised in the beach town of Palhoça, Santa Catarina, Brazil, Tarcy's culinary career began early on, inspired by her hometown's Portuguese and German influences.
Read Tarcy's Full Bio
After earning a degree in Professional Pastry and Bakery Arts and Fashion Design, she headed to the United States with her husband to increase their knowledge of the English language and experience American food culture. They landed in Orlando, FL, where Tarciani found opportunities to expand her education by participating in fairs, seminars, and courses, some of which featured her professional idols like Gordon Ramsey and Buddy Valastro. She knew she was on the right career path when she scored first place at the Citi Lakes Annual Dessert Contest.
Seeking to hone her skills, Tarcy moved to Greenville, SC, in 2020, where she found a home with Table 301 and Passerelle Bistro. She explains that it was her first job in the country, and "they welcomed me like family." Six months later, she accepted a transfer to Soby's, where she started as a sauté cook but quickly became known for her talents in creating beautiful desserts, leading to her role as Pastry Chef.
"It is incredibly satisfying and humbling to know that guests are celebrating someone's life or special occasion with my desserts," says Tarciani. "I am thankful to the entire Soby's team who have allowed me to learn so much, test my creativity, and surprise our guests with my love for sweets and desserts."
With a passion for all types of cooking, Tarcy has worked alongside French Michelin Chef Nicolas Abello and trained with Jaime Barcelos, a well-known Brazilian chef who owns what is considered the best oyster restaurant in Brazil. Full of energy and a competitive spirit, Tarcy loves to run in her free time, drink coffee, bake bread (and eat it!), and practice her love of fashion design. She speaks three languages and enjoys traveling while continuing to learn about American culture.