dinner
Soby's culinary style pays tribute to all that is southern, with comfort food dishes dedicated to locally sourced ingredients and natural goodness. You'll feel right at home when a basket of our warm, signature cheddar biscuits arrives at your table.
SOUTHERN TASTE
Meat & Artisan Cheese Board    15
Preserves, Marcona Almonds, Crispy Bread
Crispy Ham And Brussels Sprouts    14
Country Ham, Herb Goat Cheese, Hot Honey
Crispy Fried Calamari    12
Tomato Sauce, Roasted Shallot Tartar Sauce
Fried Green Tomatoes    8
Blackened Haricot Verts, Pimento Cheese Fondue
Spicy Pimento Cheese  7
Crispy Pita, Pickled Okra
Mussels Mariniere    16
PEI Mussels, Bacon, Leeks, White Wine, Cream, Grilled Ciabatta
Grilled Octopus    16
Crispy Potatoes, Piquillo Pepper Aioli, Arugula, Lemon Vinaigrette
SOUPS & SALADS
Soby's She Crab Soup   8
Aged Sherry, Crab Roe
Strawberry Field Salad   9
Fresh Strawberries, Goat Cheese,
Toasted Walnuts, Lemon Poppyseed Vinaigrette
Iceberg Wedge  9
Clemson Blue Cheese Dressing, Tomato Confit, Crispy Bacon
Caesar Salad   9
Romaine Lettuce, Grana Padano, Croutons
 ENTREES
Seared Striped Bass  34
Creole Spiced Crawfish And Andouille Rice, Haricot Verts, Smoked Tomato Vinaigrette
Crab Cakes   29
Sweet Corn Maque Choux, Mashed Potatoes, Haricot Verts, Remoulade
Fried Chicken   24
Mac And Cheese, Haricot Verts, Hot Honey
Ponzu Marinated Tofu Bowl   21
Growing Greens Family Farm Vegetables, Steamed Rice, Ginger Scallion Vinaigrette
Grilled 60 South Salmon*   32
Field Pea Succotash, Steamed Rice, Creole Mustard Glaze, Scallions
Braised Beef Short Ribs    29
Horseradish Mashed Potatoes, Roasted Asparagus, Stolen Old #6 BBQ
Duck Confit  28
Crispy Confit Legs, Sea Island Baked Red Peas, Baby Arugula, Orange Vinaigrette
Shrimp and Grits   25
Andouille Sausage, Tasso Ham, Roasted Tomatoes, Anson Mills Grits
Bacon Wrapped Pork Tenderloin*  25
Creamy Mashed Potatoes, Broccolini, Habanero Butter Sauce
Braveheart Filet Mignon*   42
Raclette Potatoes, Broccolini, Chimichurri Rojo
Items can be added to any entrée or salad:
Add 6 Shrimp – 11
Add 1 Crab Cake – 12
Whenever possible, our menu supports local artisan farmers, foragers, and ranchers who share our vision of offering a true "farm to table" dining experience.
Our culinary team at Soby's is more than happy to work with our guests to meet their dietary needs and allergy restrictions, or to create delicious vegetarian and vegan dishes. To email the staff with questions or discuss menu options, please call 864-232-7007.
*Contains Ingredients that are raw or undercooked. Consuming raw or undercooked meats, poultry, seafood, shellfish, or eggs may increase your risk of food borne illness
dessert
A sweet way to end your meal!
White Chocolate Banana Cream Pie     8
Short Crust, White Chocolate Banana Whipped Cream, Shaved White Chocolate
Key Lime Cheesecake   9
Toasted Meringue, Guava Gel, Coconut Crumble
Carolina Peach Crisp    9
Vanilla Bean Ice Cream, Oat Streusel, Caramel Sauce
Dark Chocolate Layer Cake    9
Raspberry Swirl Ice Cream, Chocolate Waffle Cookie, White Chocolate Crumb
Sweet Corn Creme Brûlée (gf)    9
Blueberry Macaron
brunch
Soby's is now open for brunch on Saturdays and Sundays! The menu is ala carte and filled with a great mix of traditional brunch fare, Soby's classics and Chef's features. Round our your brunch off with one of our Bloody Mary's or Mimosa's to make your weekend complete.
Be sure to reserve your table early for all of Soby's special holiday brunches at Easter, Mother's Day and Father's Day. The menus for these special holiday brunches contain enhanced offerings and are priced differently than our weekly Sunday Brunch brunches. For the most current information, please call the restaurant at 864.232.7007 to inquire about special holiday brunch pricing.
Brunch is served Saturday from 11:00am – 2:00pm and Sunday from 10:00am – 2:00pm.
SOBY'S WEEKEND BRUNCH MENU
Brunch Menu
Starters
Pecan Sticky Buns   8
Bourbon Caramel Glaze
Yogurt Parfait   9
Greek Yogurt, Heirloom Grain Granola, Seasonal Fruit, Local Wildflower Honey
Spicy Pimento Cheese   6
Crispy Pita, Pickled Okra
Meat & Artisan Cheese Board    15
Creole Mustard, Preserves, Nuts, Grilled Bread
Roasted Carrot Hummus    8
Vegetable Crudites, Crispy Pita, EVOO
Local Berry Salad   8
Local Greens, Local Mixed Berries, Goat Cheese Crumbles, Sunflower Seeds, Green Goddess Dressing
Iceberg Wedge   8
Clemson Blue Cheese Dressing, Roasted Tomatoes, Crispy Bacon
Caesar Salad  8
Romaine Lettuce, Shaved Chapel Hill Creamery Calvander, Croutons
Entrees
Lemon Ricotta & Blueberry Pancakes   12
Fresh lemon, ricotta and blueberry maple syrup
Southwest Frittata   14
Roasted Red Peppers, Black Beans, Avocado Crema, Green Tomato Pico
Crispy Fried Chicken Biscuit   19
Buttermilk Biscuit, Sausage Gravy, Herbs
Fried Green Tomato Benedict  16
Fried Egg, Canadian Bacon, Pimento Cheese Fondue, English Muffin, Crispy Potatoes
Crab Cakes  25
Sweet Corn Maque Choux, Haricot Verts, Remoulade, Crispy Potatoes
Smoked Salmon Toast   16
Ciabatta, Avocado Spread, Capers, Shaved Red Onions, Everything Spice
Fried Bologna Sandwich  15
Cochon Bologna, American Cheese, Fried Egg, Dukes Mayo, Crispy Potatoes
Steel Cut Oatmeal  10
Steel Cut Oats, Fresh Paches Bourbon Carmel Glaze
Shrimp and Grits    25
Andouille Sausage, Tasso Ham, Roasted Tomatoes, Anson Mills Grits
Items can be added to any entrée:
Add 6 Shrimp – 11
Add 1 Crab Cake – 12
Add Chicken – 12
Brunch Beverages
Table 301 Mimosa   3.01
St. Mimosa    8
Prosecco, Splash of St. Germain
Grand Mimosa  20
Perrier-Jouët, Splash of Grand Marnier
Table 301 Bloody Mary  3.01
Zing Zang, Celery, Lemon, Lime
Soby's Classic Bloody Mary  9
Soby's House Made Bloody Mary Mix, Tito's, Lemon, Lime, Blue Cheese Stuffed Olive, Strip Of Bacon
Kentucky Bloody Mary   9
House Made Mix, Makers Mark, Lemon, Lime, Blue Cheese Stuffed Olive, Strip Of Bacon
Add:
Shrimp Skewer (3)    5
**These items contain (or may contain) ingredients that are raw or undercooked. consuming raw or undercooked meats, poultry, seafood, shellfish, or eggs may increase your risk of foodborne illness.
wine
Soby's impressive wine cellar is vast, but our well-trained associates are ready to help you select that special bottle of wine for any dish or occasion. Cheers!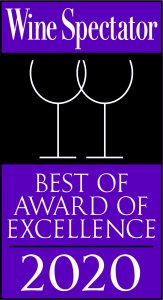 At Soby's, wine is as much a part of the dining experience as the food. Owner Carl Sobocinski's long-time passion for wine jump-started the restaurant's wine program back in 1997, and Soby's was one of the first restaurants in Greenville to win a Wine Spectator "Award of Excellence."
Soby's has continued to receive accolades for its wine program over the past 20 years. Since 2003, the restaurant has been awarded the prestigious Wine Spectator Best of Award of Excellence and been named to The World of Fine Wine Best Wine Lists. Soby's current collection now features more than 1,250 wines and over 5,000 total bottles in the cellar (yes, we have our eye on the prestigious Wine Spectator Grand Award!).
So what can you expect to find in Soby's wine collection? The cellar has been designed with a global focus. Yes, you'll find plenty to love that is domestic – from crisp California Chardonnays and hearty, rich Cabernets to Oregon's smooth tasting Pinot Noirs. But, there are also Old World selections from every major wine making region in the world. Wine enthusiasts will no doubt find their favorites from Austria, Germany, Italy, Argentina, France and more on Soby's current list. Get a peek at the Soby's wine list before your visit.
While all of Soby's dishes offer a suggested wine pairing, our sommelier team and service staff are more than happy to share their extensive wine knowledge to help you choose something different. Part of the fun of wine pairings is the experimentation, so venture out and try something new on your next visit.
Interested in learning more about wine? We offer wine tastings and wine dinners throughout the year that showcase some of the top vineyards and winemakers in the country. To receive more information about upcoming events, join the Table 301 email club.
The Cellar at Soby's
Special occasions call for a distinctive venue, and Soby's wine cellar provides an extraordinary dining experience for any wine lover. Located below the main dining room, The Cellar offers guests an up close and personal look into Soby's extensive collection.
A large central table provides seating for up to 12 guests, making it an ideal setting for an intimate dinner and wine tasting celebration. Be sure to book ahead to reserve The Cellar at Soby's: 864.232.7007.
cocktails & beer
Step up to Soby's bar for an impeccable selection of handcrafted cocktails incorporating seasonal ingredients, local spirits and craft beers. Be sure to grab one of our street-side tables where you can perch and sip casually while people-watching. It's the perfect ending to a long day.
Soby's Art of the Cocktail
Soby's Signature Old Fashioned   18
Soby's 20th Year Makers Mark Private Select, Demerara, Black Walnut Bitters
(Switch your bourbon to SweetensCove  60)
The Lady Diana    12
In Memory of Diana DeCastro
Tito's Vodka, Lime, Peach, Banana, Pineapple, Mango Purée
Midnight Train to Georgia 12
Rittenhouse Rye, Aperol, Ramazzotti, Peach, Lemon
Ruby Rock A Fella  12
Beefeater, Raspberry Infused Campari, Lillet Rosé
Poetry in Motion 11
Plantation, Rum Haven, Crème De Violette, Lavender, Lemon, Egg White
Western Road Flows   15
Knob Creek, Banana, Espresso, Chocolate Bitters
One Hot Minute   11
Strawberry-Infused New Amsterdam Vodka, Mint, Jalapeño, Lime, Soda
Smoke On The Horizon  12
Espolon Reposado, Montelobos Mezcal, Ancho Reyes, Ginger, Lime, Agave
Down The Rumway  14
Scarlet Ibis Rum, Diplomatico, Apricot, Lemon, Poppyseed, Pomegranate
Inspired by the Classics
Boulevardier  15
Elijah Craig Rye, Campari, Dolin Rouge Vermouth
20th Century Cocktail   10
Beefeater Gin, Lillet Blanc, Créme De Cacao, Lemon
Soby's New South Mules
Tito's Mule 11
Titos Vodka, Lime, Ginger Beer
Peach Mule 11
Deep Eddy Peach Vodka, Lime, Orange, Ginger Beer
Kentucky Mule 12
Elijah Craig Bourbon, Lime, Ginger Beer
Soby's New South Mocktails
A collection of non-alcoholic beverages for you to enjoy.
Pineapple Ginger Fizz   4
Spicy Ginger Syrup, Pineapple, Lime, Soda
Folly Dreams    4
Coconut Milk, Orange Juice, Pomegranate, Soda
Local Beers
Oskar Blues "Mama's Yella Pils"     5
Brevard, NC
Coast Brewing Company "Kölsch"   6
Charleston, SC
Sweetwater 420 Extra Pale Ale    5
Atlanta, GA
Sierra Nevada Pale Ale     5
Mills River, NC
Wicked Weed "Pernicious" IPA   7
Asheville, NC
Cigar City Brewing "Jai Alai" IPA  6
Tampa, FL
Edmund's Oast "Bound By Time" IPA 16 ounces   8
Charleston, SC
Westbrook IPA     6
Mt. Pleasant, SC
Legal Remedy "Mocha Blonde Stout"   7
Rock Hill, SC
New Belgium "Fat Tire" 5
Asheville, NC
Thomas Creek Appalachian Amber     5
Greenville, SC
River Rat Hazelnut Brown Ale     5
Columbia, SC
Legal Remedy "Pro Bono Vanilla Porter"   6
Rock Hill, SC
Craft Brews, Ciders, and Imports
Boldrock "Apple Cider"      6
Mills River, NC
Edmund's Oast Seasonal "Sour Cherry Pineapple" 16oz    8
Charleston, SC
Weihenstephaner Lager      6
Germany
Stella Artois Lager     5
Belgium
Weihenstephaner Hefe Weiss  6
Germany
Allagash White Ale     6
Portland, ME
Corona Extra Pilsner    5
Mexico
New Planet "Pale Ale Gluten Free"  7
Denver, CO
Kaliber Non-alcoholic     5
Ireland
Guinness     5
Ireland
Domestic Beers
Bud Light     4
Michelob Ultra     4
Miller Lite     4
Yuengling     4
Michelob Light  4