At Table 301, It's a Team Effort
We support a company culture that is energetic, caring, positive and fun. Our shared goals help us deliver exceptional hospitality and unforgettable experiences "The Soby's Way" — each and every day. Here are a few people that help make Soby's a great place to work.
Carl Sobocinski
Founder & Owner
Carl Sobocinski is founder and owner of Greenville's Table 301 Restaurant Group. Carl has spearheaded the company's growth and development over the past 20 years which now includes 10 individual restaurants in its portfolio: Soby's New South Cuisine, Soby's on the Side, The Lazy Goat, NOSE DIVE Gastropub, Passerelle Bistro, Papi's Tacos, Highway 301 Food Truck, Southern Pressed Juicery, Table 301 Catering, and Jianna.
Read Carl's Full Bio
A native of Durham, New Hampshire, Carl made his way to South Carolina and Clemson University where he pursued an architectural degree. After graduation, Carl quickly realized that his true passion was not for architecture and design but aligned more with the restaurant & hospitality industry and community service. In the mid-1900s, he took a leap of faith and opened his first restaurant called The 858 in Greenville. Soby's followed in 1997 and the rest is history.
Today, Carl is an active contributor to Greenville's and the state of South Carolina's business and charitable communities. He has served three terms as a board member on the National Restaurant Association where he held the position of Chairman of the Jobs and Careers Committee. He also was a member of the Executive Committee of the Greenville Convention and Visitor's Bureau where he was instrumental in the city's "Branding Initiative," a successful effort to use a portion of hospitality tax revenues to create a plan for marketing and promoting Greenville as a tourist destination. Carl's leadership continues on the Executive Committee for the South Carolina Restaurant and Lodging Association, as a member of the Furman University President's Advisory Council and as a Greenville mentor volunteer through the Frazee Dream Center.
A long-time supporter and enthusiast of the community, Carl and platinum-selling singer-songwriter Edwin McCain spearheaded the creation of Greenville's nationally-acclaimed, four-day food, wine and music festival called Euphoria in 2006. The event has evolved into a premier culinary and musical arts destination for thousands each September and has helped to raise important funds for Local Boys Do Good, a foundation that distributes funds to local non-profits in the community. Today, Carl holds emeritus status with the board of Euphoria.
Over the past two decades, Carl has been honored for many of his contributions including: South Carolina Restaurant Association's Restaurateur of the Year, recipient of the Distinguished Service Award from the Greenville Jaycees, finalist for Greenville Magazine's Nelson Mullins Business Person of the Year, Leadership Greenville's Distinguished Alumni from the Greenville Chamber of Commerce, and a member of the Chamber's Leadership Greenville Class 26.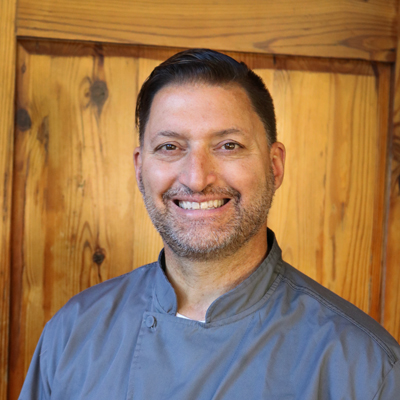 Rodney Scruggs
Executive Chef
Beginning his culinary career in Washington almost thirty years ago, it can be said Rodney Scruggs has come full circle. At just 18 years old, Scruggs walked into Occidental Grill & Seafood as a line cook, and discovered his calling. Inspired by both his mother and grandmother, Scruggs established his passion for cooking when he studied Culinary Arts at Newbury College in Massachusetts.
Read Rodney's Full Bio
From 1986 until 1993, he worked his way up at Occidental from line cook to Executive Sous Chef, gaining valuable knowledge and discipline from then Executive Chef Jeffrey Buben. Ready to explore, Scruggs left Occidental Grill & Seafood for new experiences before returning in 2005.
During his years away from Occidental, Chef Scruggs worked with Chef Roberto Donna at his famed restaurant, Galileo and at the Imperial Hotel on Maryland's Eastern Shore. Following the Imperial Hotel, Scruggs joined Chef Francesco Ricchias as the Chef de Cuisine at Cesco's Trattoria. From there, he reunited with his mentor Chef Buben to open the renowned Bistro Bis on Capitol Hill. Following Bistro Bis, Scruggs served as private chef for the President of American University for four years before returning to where he first began.
Chef Scruggs walked back into the kitchen at Occidental in 2005, bringing with him a wealth of new experience. As the Executive Chef of Occidental Grill & Seafood, Scruggs creates innovative menus while balancing the demand for traditional favorites in a DC institution that is almost 110 years old.
Chef Scruggs values fresh and local ingredients, and spends countless hours sourcing produce and proteins, creating delicious dishes that are twists on the classics. In October 2017, Chef Scruggs moved to Greenville and joined the Table 301 team as Executive Chef of the group's flagship restaurant, Soby's, where he'll be putting his spin on the New South Cuisine menu.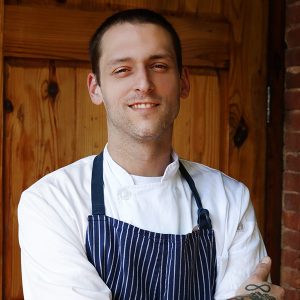 Chef Chris Arnold
Chef de Cuisine
Born into a Southern Italian family of chefs, Chef Chris Arnold's passion for all things culinary-related was inevitable. He began his journey at the young age of 16, working as a food runner for Maggiano's Little Italy in Nashville, TN.
Read Chris's Full Bio
He quickly advanced into the kitchen where he was eager to learn more about different culinary styles. He further developed his skills at some of Nashville's original restaurants including The Trace Restaurants and Firefly Grill.
Chris' hard work paid off and he was asked to join Nashville's F. Scott's Restaurant and Jazz Bar as a Sous Chef under Chef Kevin Ramquist. There he was able to hone his craft and found a deep appreciation for sourcing locally grown products for his dishes.
With a Nashville/southern-inspired culinary style in hand, Chris landed a position as Executive Chef at Lakeside Restaurant in Highlands, NC. In early 2017, he and his wife, Shelley — who is a Level 3 sommelier — decided they wanted to make a move to Greenville, SC. He joined Soby's New South Cuisine as Chef de Cuisine and has been putting his personal stamp on the menu ever since. Chris continues to draw his inspiration from regionally sourced ingredients for Soby's dishes, working to strengthen relationships with local farmers and purveyors in order to create flavors people love.
When Chris is not in the Soby's kitchen, he enjoys spending time with his wife and mastering new techniques such as meat curing and woodworking.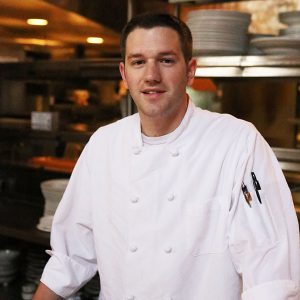 Haydn Shaak
Chef, The Loft at Soby's
Chef Haydn Shaak's passion for all things food-related began upon moving to the South in his senior year of high school. His restaurant experience began with dishes and he worked his way up with hard work and dedication.
Read Haydn's Full Bio
Shaak began his culinary career at age 15 in a pizza kitchen. His passion for the industry blossomed when he moved to the South and apprenticed under his classically trained chef father. He earned an Associates Degree in Culinary Arts from Greenville Technical College and went on to become Executive Sous Chef of CityRange before his 21st birthday.
His experience as Sous Chef gave him a new understanding of how to motivate his employees and get them to love what they do as much as he does. He took a few jobs in the Upstate before finding his way to Executive Chef of Westminster Retirement where he developed a Chef's Choice menu for the properties. In late 2014, Shaak returned to Greenville as Sous Chef at High Cotton under Adrian Carpenter; furthering his knowledge of the food industry and gaining invaluable experience.
Most Recently…
Shaak is looking forward to putting his own spin on some classic favorites as the chef at The Loft at Soby's, as well as bringing one on one chef interaction with event guests.
When he is not in the kitchen at Soby's, you can find Shaak exploring the outdoors with his family.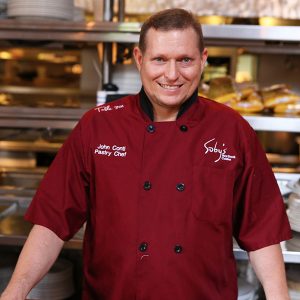 John Conti was born and raised in Charleston, SC and is the oldest of three children. He attended Francis Marion University and received his Bachelors of Science Degree in Business Administration.
Read John's Full Bio
After graduating, he got a job at Enterprise Rent-A-Car, where he traveled a lot and eventually got transferred to Greenville, SC. He later enrolled in the United States Coast Guard Reserve. This is where his passion for food was ignited, and he realized he wanted to cook full-time.
John went back to school at Greenville Technical College and double majored in Culinary Arts Technology and Baking & Pastry Arts. While in school, he interned with Soby's on the Side for 10 months. He met all of the Table 301 chefs during Fall For Greenville and was hired to work full-time in October 2010 for the pastry departments at Soby's and Soby's on the Side. He held that position for two years until he was promoted to Pastry Chef at The NOSE DIVE. After time in the kitchen at NOSE DIVE, he moved back to Soby's where he is currently the Pastry Chef.
He still serves on Coast Guard duty, and in summer 2014, he was invited to spend a week at the Department of Homeland Security's Headquarters in D.C. to assist with the retirement celebration of the Commandant of the United States Coast Guard.
John loves playing soccer, surfing, gardening and enjoys making his own sauces from what he grows. John's family still resides in Charleston, SC and he visits least once a month.
He loves to travel and work with other pastry chefs to learn new techniques and to improve his craft.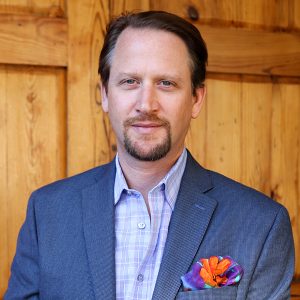 Andrew Fallis
Assistant Manager
Andrew was born in Philadelphia, where he grew up in a family who loved entertaining and hospitality, something that stuck with him when thinking about a career path. He moved to Charleston, SC to attend Johnson and Wales.
Read Andrew's Full Bio
After graduating in 1996 with a degree in Hotel and Restaurant Management, Andrew stayed in Charleston and joined the opening team of the Peninsula Grill, in the Planter's Inn, a now staple among well-known Charleston restaurants and hotels. He began there as a server In his 10 years with the company, he moved up the ranks and held the title of General Manager during the last years of his tenure there.
He left Peninsula Grill and Charleston in 2006 and made a move to Florida to help open a private hotel and golf resort.
In 2008, returned to Charleston to work with Steve Palmer, owner of the young Indigo Road Restaurant Group. Andrew's role with the company grew to serve as the opening manager for new properties as the restaurant group expanded, spending about a year in each new property. This was a great fit for him as the excitement surrounding opening a new concept plays right into his passion for training and his passion for designing and executing a new concept.
After working with Indigo Road for almost a decade, Andrew felt it was time to look in other areas. He found Greenville, SC a good fit and at Table 301, found a similar commitment to hospitality and the core values idea of taking care of your employees and your guests with the same level of love and hospitality. He joined the Table 301 team in March 2017 and currently serves as the General Manager at the company's flagship restaurant, Soby's.
When not at work, Andrew can likely be found enjoying the outdoors, hiking, biking, gardening, and when on the coast, sailing, with his wife and their Golden Doodle, Feta. Andrew and his wife are also involved in non-profit activities through their support of organizations that aid those affected by Alzheimer's disease.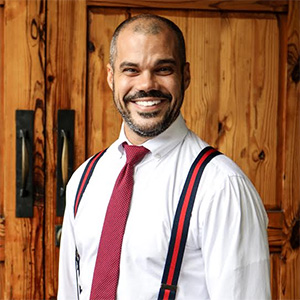 Michael grew up in northern New Jersey where his first job was working at a dry cleaners at the age of 15. It was here that he developed a passion for delivering good service and making sure that his customers always came first.
Read Michael's Full Bio
That lesson came in handy as Michael worked his way up in the restaurant industry.
Michael's college career started out following his interests in Psychology and Music, but when he later transferred to the University of Nevada in Las Vegas, he switched his major to Hotel Management, with an emphasis in Food and Beverage. While he attended school, he worked various serving positions at Simon's Kitchen & Bar, Aquinox, and N9NE Steakhouse.
After spending eight years in Las Vegas, Michael made the move back to New Jersey and went to work for Atlantic Grill in New York City. It was here that he started his restaurant management career and further developed his detail-oriented style with an attention to quality service. Later, he went on to work for Harvest Restaurant Group, managing Urban Table and Tabor Road Tavern.
In 2016, Michael made a trip to Greenville to visit his sister and the first restaurant they dined at was Soby's. He quickly fell in love with the city's downtown area and learned more about Table 301's company values. After taking a month-long trip to Europe, Michael came back to Greenville and joined the Soby's team as manager in August, 2016.
When he is not in the restaurant, Michael can be found practicing yoga and spending time with his family.