At Table 301, It's a Team Effort
We support a company culture that is energetic, caring, positive and fun. Our shared goals help us deliver exceptional hospitality and unforgettable experiences "The Soby's Way" — each and every day. Here are a few people that help make Soby's a great place to work.
Carl Sobocinski
Founder & Owner
Carl Sobocinski is founder and owner of Greenville's Table 301 Restaurant Group. Carl has spearheaded the company's growth and development over the past 20 years which now includes 10 individual restaurants in its portfolio: Soby's New South Cuisine, Soby's on the Side, The Lazy Goat, NOSE DIVE Gastropub, Passerelle Bistro, Papi's Tacos, Highway 301 Food Truck, Southern Pressed Juicery, Table 301 Catering, and Jianna.
Read Carl's Full Bio
A native of Durham, New Hampshire, Carl made his way to South Carolina and Clemson University where he pursued an architectural degree. After graduation, Carl quickly realized that his true passion was not for architecture and design but aligned more with the restaurant & hospitality industry and community service. In the mid-1900s, he took a leap of faith and opened his first restaurant called The 858 in Greenville. Soby's followed in 1997 and the rest is history.
Today, Carl is an active contributor to Greenville's and the state of South Carolina's business and charitable communities. He has served three terms as a board member on the National Restaurant Association where he held the position of Chairman of the Jobs and Careers Committee. He also was a member of the Executive Committee of the Greenville Convention and Visitor's Bureau where he was instrumental in the city's "Branding Initiative," a successful effort to use a portion of hospitality tax revenues to create a plan for marketing and promoting Greenville as a tourist destination. Carl's leadership continues on the Executive Committee for the South Carolina Restaurant and Lodging Association, as a member of the Furman University President's Advisory Council and as a Greenville mentor volunteer through the Frazee Dream Center.
A long-time supporter and enthusiast of the community, Carl and platinum-selling singer-songwriter Edwin McCain spearheaded the creation of Greenville's nationally-acclaimed, four-day food, wine and music festival called Euphoria in 2006. The event has evolved into a premier culinary and musical arts destination for thousands each September and has helped to raise important funds for Local Boys Do Good, a foundation that distributes funds to local non-profits in the community. Today, Carl holds emeritus status with the board of Euphoria.
Over the past two decades, Carl has been honored for many of his contributions including: South Carolina Restaurant Association's Restaurateur of the Year, recipient of the Distinguished Service Award from the Greenville Jaycees, finalist for Greenville Magazine's Nelson Mullins Business Person of the Year, Leadership Greenville's Distinguished Alumni from the Greenville Chamber of Commerce, and a member of the Chamber's Leadership Greenville Class 26.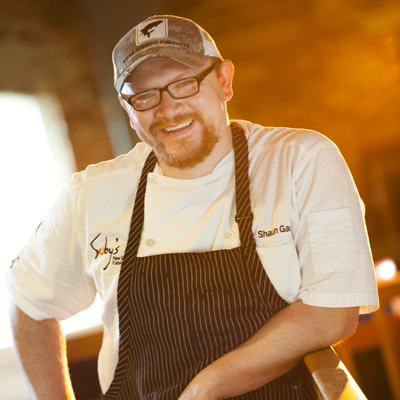 Shaun Garcia
Executive Chef
Born and raised in a mill town in Spartanburg County, South Carolina, Shaun's interest in food began early; he practically grew up in the kitchen of his grandmother's restaurant. The family-owned establishment was a true southern restaurant and taught Shaun the most important thing in the restaurant industry is hospitality. Shaun spent his early years learning about the importance of southern food and culture. When he was Executive Chef at Soby's, Shaun took that heartfelt flavor of authentic Southern cooking and adds fresh style for an unexpected dining experience.
Read Shaun's Full Bio
In 2010, he took his commitment to heirloom ingredients to the next level by establishing the Soby's Field at Dark Corner, an ambitious project that raises produce from the Slow Foods Ark of Taste list for use in the restaurant. The Ark of Taste, a collection of food items in danger of extinction, promotes and protects the vibrant flavors of American ingredients, and by growing these items for Soby's, Shaun is assuring that the restaurant will be able to offer dishes that honor culinary history.
He joined Table 301 Restaurant Group in August of 2003 as a line cook, and his innate talent for Southern cooking led him to take the helm of the Soby's kitchen in January of 2007. He is a participant in the annual Euphoria festival, a first-class culinary celebration that raises funds for charities while promoting tourism and enhancing the reputation of Greenville, S.C. as a premiere culinary and performing arts destination. Shaun enjoys being a part of local non-profit events each year, such as the March of Dimes Signature Chef's Auction, Fall for Greenville and Hospitality Day at the State House.
One of Shaun's primary goals in dish development is to use seasonal ingredients and local products whenever possible in order to support local food producers and provide the best flavor for his guests. He draws on his profound experience with Southern food traditions to bring time-honored recipes with modern flair to the table. In addition to taking inspiration from his family heritage of Southern cuisine, he uses techniques like a French slow braise to bring out the potential in lesser-used cuts of meat and uses traditionally African ingredients like okra and yams that have historically brought wonderful flavor to Southern food.
Shaun left Soby's in the summer of 2015 to pursue career opportunities in the Northwest, but realized quickly that Upstate South Carolina was home. He rejoined Table 301 in February 2016, joining the NOSE DIVE team as Executive Chef. After a short stint back in the Northwest, Shaun returned to the kitchen he called home for so long, Soby's, and oversees culinary operations there as Executive Chef.
He also enjoys working with bourbon, a spirit that he says lends itself well to the hearty, earthy flavors of Southern cuisine and matches his recipes in heritage and history. Shaun's cuisine is a study in culinary history, updated for the modern palate. He is a member of the Southern Foodways Alliance, Seed Savers and Slow Foods. He has been featured several national publications, including Cooking Light, Garden & Gun, and Taste of the South.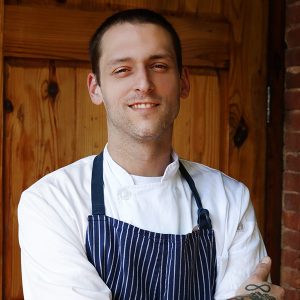 Chef Chris Arnold
Chef de Cuisine
Born into a Southern Italian family of chefs, Chef Chris Arnold's passion for all things culinary-related was inevitable. He began his journey at the young age of 16, working as a food runner for Maggiano's Little Italy in Nashville, TN.
Read Chris's Full Bio
He quickly advanced into the kitchen where he was eager to learn more about different culinary styles. He further developed his skills at some of Nashville's original restaurants including The Trace Restaurants and Firefly Grill.
Chris' hard work paid off and he was asked to join Nashville's F. Scott's Restaurant and Jazz Bar as a Sous Chef under Chef Kevin Ramquist. There he was able to hone his craft and found a deep appreciation for sourcing locally grown products for his dishes.
With a Nashville/southern-inspired culinary style in hand, Chris landed a position as Executive Chef at Lakeside Restaurant in Highlands, NC. In early 2017, he and his wife, Shelley — who is a Level 3 sommelier — decided they wanted to make a move to Greenville, SC. He joined Soby's New South Cuisine as Chef de Cuisine and has been putting his personal stamp on the menu ever since. Chris continues to draw his inspiration from regionally sourced ingredients for Soby's dishes, working to strengthen relationships with local farmers and purveyors in order to create flavors people love.
When Chris is not in the Soby's kitchen, he enjoys spending time with his wife and mastering new techniques such as meat curing and woodworking.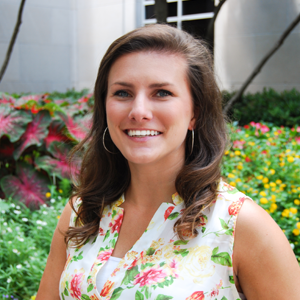 Jordan Wolfe
Restaurant Manager
Jordan Wolfe began her career in the hospitality industry with Table301 after graduating from Furman University in 2016. Although fairly new to the business, she has a great admiration for the industry, especially Soby's and its staff's unwavering dedication to creating a fantastic dining experience for their guests.
Read Jordan's Full Bio
Having graduated with a BS in Sustainability Science and a BA in Art History, she has introduced a more environmentally friendly approach to Soby's. This idea originated from a sustainable food tour she did as a student with some of Table 301 restaurants, which sparked her interest to work for the company and learn more about the restaurant industry. Soon after, she was approached about a management position at The Nose Dive and, recently, has assumed the same role at Soby's. She has a love for food and good wine (she's a level one Master Sommelier), but she also deeply cares about where and how the products are sourced and where they end up once they've left the table. And that's how programs, such as composting, are now the norm in Table 301 restaurants! Jordan's 2018 goals for Table 301 include glass recycling and becoming zero waste.
Outside of work, Jordan loves to hang out with her friends, her family, and her rescue dog, Sierra. She looks forward to spending time outside, whether hiking or sitting on the patio with a delicious glass of rosé. Whenever she can, Jordan also likes to travel. She is always looking forward to her next adventure. Being born in the UK, and having studied in Copenhagen, Tanzania, and Switzerland, she's had the opportunity to visit many places, which has given her a different perspective on people and how they enjoy their dining experience. Having already climbed Mount Kilimanjaro and Machu Pichu, one of her life goals is to hike all of the tallest mountains on each continent!
Table 301 has been a great introduction into the hospitality industry for Jordan. And she's excited to see where this career takes her.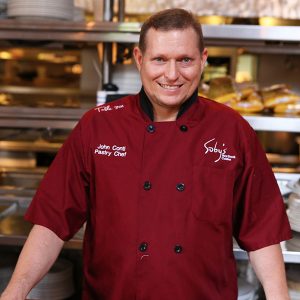 John Conti was born and raised in Charleston, SC and is the oldest of three children. He attended Francis Marion University and received his Bachelors of Science Degree in Business Administration.
Read John's Full Bio
After graduating, he got a job at Enterprise Rent-A-Car, where he traveled a lot and eventually got transferred to Greenville, SC. He later enrolled in the United States Coast Guard Reserve. This is where his passion for food was ignited, and he realized he wanted to cook full-time.
John went back to school at Greenville Technical College and double majored in Culinary Arts Technology and Baking & Pastry Arts. While in school, he interned with Soby's on the Side for 10 months. He met all of the Table 301 chefs during Fall For Greenville and was hired to work full-time in October 2010 for the pastry departments at Soby's and Soby's on the Side. He held that position for two years until he was promoted to Pastry Chef at The NOSE DIVE. After time in the kitchen at NOSE DIVE, he moved back to Soby's where he is currently the Pastry Chef.
He still serves on Coast Guard duty, and in summer 2014, he was invited to spend a week at the Department of Homeland Security's Headquarters in D.C. to assist with the retirement celebration of the Commandant of the United States Coast Guard.
John loves playing soccer, surfing, gardening and enjoys making his own sauces from what he grows. John's family still resides in Charleston, SC and he visits least once a month.
He loves to travel and work with other pastry chefs to learn new techniques and to improve his craft.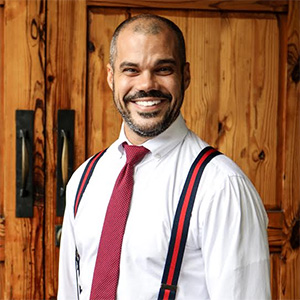 Michael grew up in northern New Jersey where his first job was working at a dry cleaners at the age of 15. It was here that he developed a passion for delivering good service and making sure that his customers always came first.
Read Michael's Full Bio
That lesson came in handy as Michael worked his way up in the restaurant industry.
Michael's college career started out following his interests in Psychology and Music, but when he later transferred to the University of Nevada in Las Vegas, he switched his major to Hotel Management, with an emphasis in Food and Beverage. While he attended school, he worked various serving positions at Simon's Kitchen & Bar, Aquinox, and N9NE Steakhouse.
After spending eight years in Las Vegas, Michael made the move back to New Jersey and went to work for Atlantic Grill in New York City. It was here that he started his restaurant management career and further developed his detail-oriented style with an attention to quality service. Later, he went on to work for Harvest Restaurant Group, managing Urban Table and Tabor Road Tavern.
In 2016, Michael made a trip to Greenville to visit his sister and the first restaurant they dined at was Soby's. He quickly fell in love with the city's downtown area and learned more about Table 301's company values. After taking a month-long trip to Europe, Michael came back to Greenville and joined the Soby's team as manager in August, 2016.
When he is not in the restaurant, Michael can be found practicing yoga and spending time with his family.